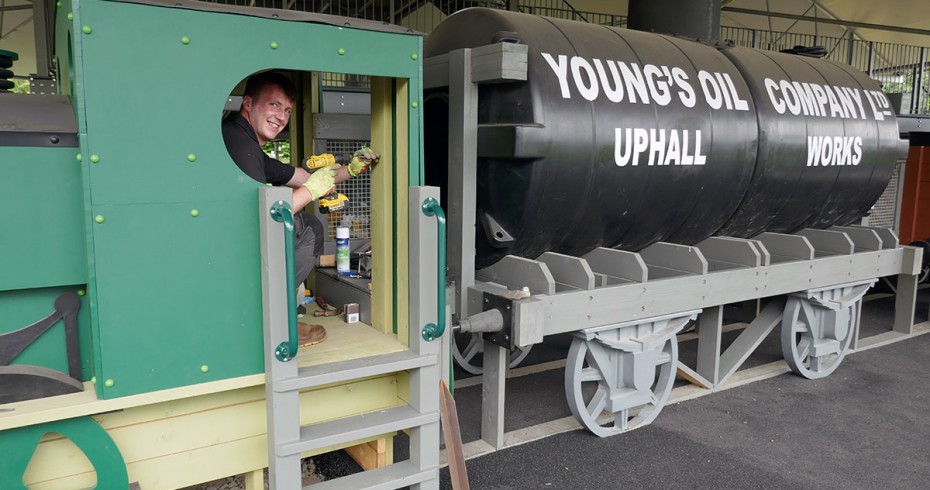 "The train now arriving at Almond Valley is the 10.00 hours, terminating in the playground and carrying oil, candles, and loads of smiling children."
On Saturday 21st July, the gates will open on The Goods Train, the first phase of an imaginative new adventure playground being constructed at the Almond Valley museum in Livingston. A train of three kid-size wagons has been filled with boxes of candles, barrels of oil and other products once manufactured by Scotland's historic shale oil industry. All are coupled up to a little shunter called "Pumphy Pat". Children can climb over the cargo, travel through the tanks, slide down chutes, and fiddle with Pat's controls.
"We've tried to make it as much like a real 19th century good train as possible, only a bit smaller and a great deal safer" said Almond Valley's Director, Dr. Robin Chesters. "Many of the goods on the train are labelled with the names of local shale oil works and provide a fun introduction to our area's rich industrial heritage". The opening date coincides with Go Industrial Day 2018; a nationwide festival of Scotland's industrial museums.
The train is just the first part of the "Paraffin Works", an ambitious three-storey play space in which children will be able to clamber through the pipes and passageways of a Victorian oil works. Work continues on this complicated construction, with the aim of opening in full next spring. The project is part financed by the Scottish Government and the European Community LEADER 2014-2020 programme.
Almond Valley is open daily from 10am to 5pm, further details are available by phoning 01506 414957 or visiting www.almondvalley.co.uk