Scotch Pies: the food of industry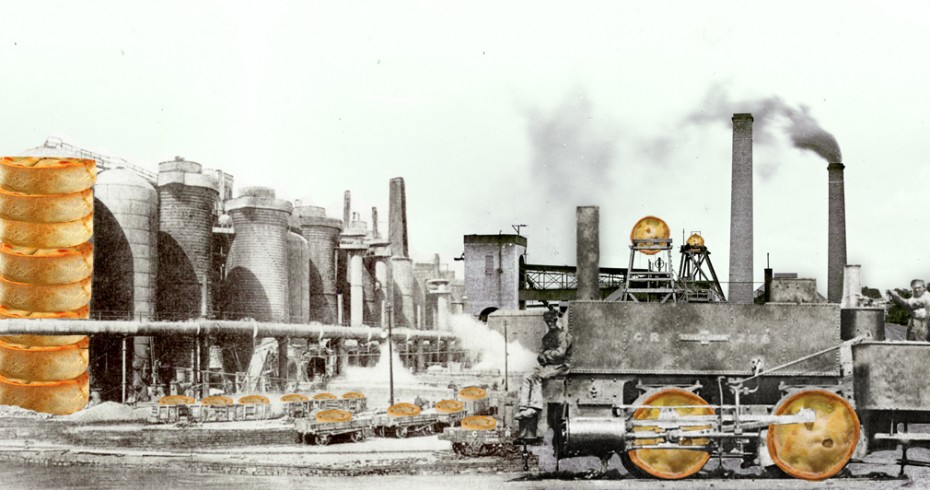 The humble Scotch pie was uniquely suited to fuel the working life of industrial Scotland.
The tough shell of hot water crust pastry possessed the strength of boilerplate, remaining intact during perilous journeys to work by bike, tram or pit cage. When reheating the pie, there was no need for the niceties of plates, trays or pans; often a simple ledge in a foundry, boiler-house or locomotive footplate was sufficient to bring fire and life back to its grey peppery contents. A warm greasy nectar would be released on first bite which, when soaked into luxuriant beards and moustaches, might continue to provide comfort and sustenance throughout a long shift.
When the working day was done, the Scotch pie contributed to the enjoyment of precious leisure time spent at fairs, parades, outdoor events and football matches. The classic combination of a pie and a pint (or a pie and lemonade in temperance districts) is long established, but perhaps special mention should be made to a Mr. W. Jack, competitor in the 1890 Airth highland games, who was victor of the "one lap foot race, (eating a pie and drinking a bottle of lemonade while running)".
The precise ancestry of the Scotch pie remains unclear. During the Victorian period many forms of pie abounded. In hard times a pie had the double advantage of making a little filling go a long way, while obscuring the precise nature of its proteinaceous content. Many recipes started with "take a well greased pie dish" and led to the addition of boiled calf heads, rabbits, rooks, and other inventive content. In addition to these home-made creations, butchers and bakers offered a variety of baked meat produce, while late-night pie shops provided refuge once the pubs had shut, serving a similar function to the kebab house of today. Pie-related references in contemporary newspapers usually mention slices of pie, suggesting large ashet pies cut into portions, however individual tu'penny pies seem also to have been popular, which may or may not have resembled today's familiar Scotch or mutton pie. The intricate lineage of these pastries would make a fascinating doctoral thesis.
In a modern age with a healthy interest in food heritage and local identity, the Scotch pie has enjoyed something of a resurgence. This sometimes comes at the expense of a certain gentrification, with mutant versions of the Scotch pie now available filled with "cod in white wine sauce", "duck, orange and apricot", and other such artisan absurdities. Nevertheless, there remains a dwindling band of family-run local bakers and butchers where it is still possible to observe the native Scotch pie in its natural habit. Faced with increasing competition from supermarkets and national bakery chains, it is important for all to engage and embrace this special heritage while this still remains possible. Exercise your contemporary collecting policy and say aye to a pie.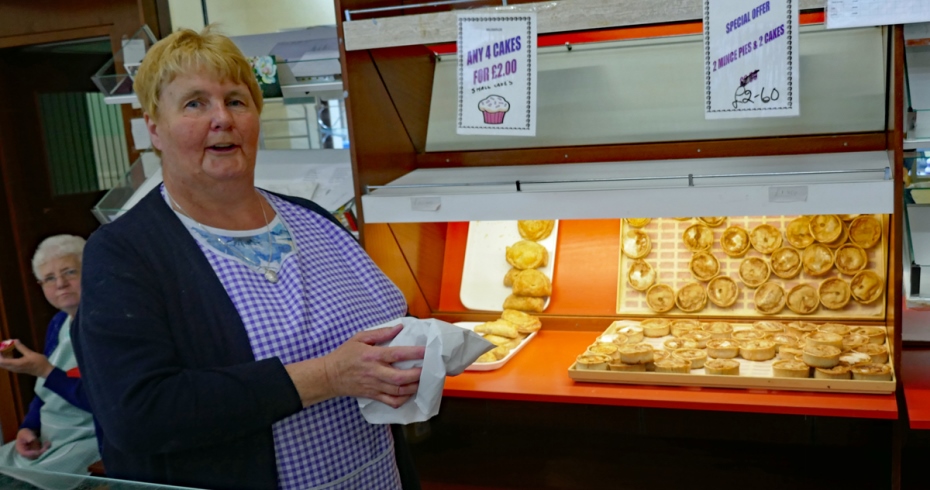 Images: (top) Scotland was once fuelled on pies; (above) a welcoming array at Whitburn bakers, A & C Fisher. These pies (or rather, pies like these) once fuelled the miners of Polkemmet pit.