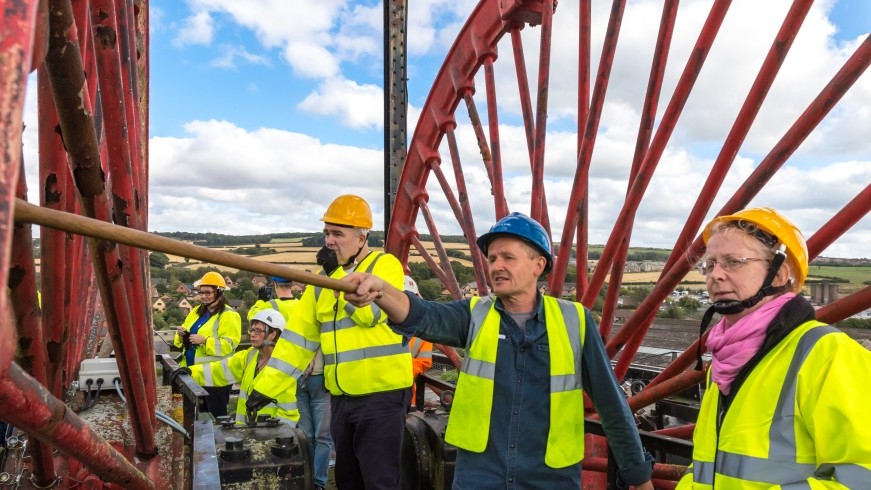 Doors Open Days is Scotland's largest free festival that celebrates heritage and the built environment.
Every September, heritage organisations and buildings across the country through open their doors to the public. It's an opportunity to explore buildings that aren't normally open to the public, and there are lots of events and yours going on as well.
The aim of Doors Open Days is to ensure that Scotland's built heritage, new and old, is made accessible to people living and visiting the country on weekends in September.
In Scotland, these European Heritage Days are coordinated by the Scottish Civic Trust, and supported by Historic Environment Scotland.
Every year, Go Industrial members take part in Doors Open Days in a variety of ways! This September you can visit:
On 14 September, climb the headframe, and experience magnificent views of Midlothain. Booking essential. Find out more.
In the afternoon there's a free chamber music concert with music from Jon McLeod's "Songs from Above and Below". Find out more.
On 14 September, take a walking tour of Dundee, from the McManus Galleries to Verdant Works. Find out more.
Free entry to the Museum on 14 and 15 September – plus reduced entry to the castle/lighthouse. Find out more.
On 7 September, discover New Lanark's lost buildings on this special tour fo Doors Open Day. Find out more.
On 21 September, jJoin the Industrial History Curator for a fascinating behind the scenes tour of the newly refurbished museum store. Free. Booking recommended. Find out more.
Experience Sea Hames, an immersive performance piece by the acclaimed Oceanallover. Free. Find out more.
On 7 September, the 1920s Shipyard Tenement Flat and the Fitting Shed will be open to all visitors. The MV Kyles will be running during tours. Find out more.
You can find 100s of other venues to visit on Doors Open Days this September on the Doors Open Days website. Happy visiting! #GoIndustrial