25 Years on the Silvery Tay
Focusing on collections to celebrate Discovery Point's Silver Jubilee.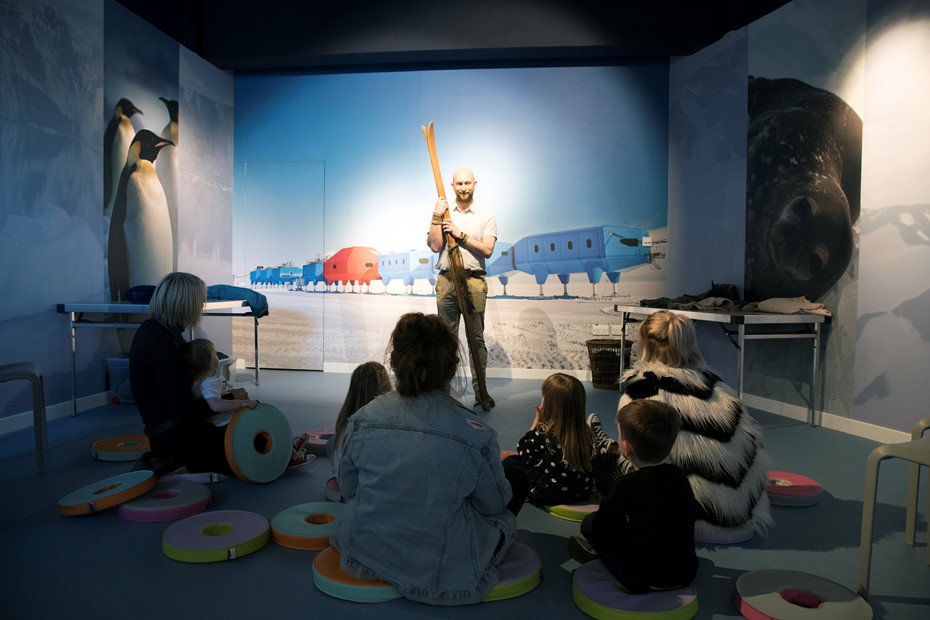 It's been all change in Dundee in 2018! With redevelopments on the waterfront and the V&A Dundee opening next door, we took this opportunity to refresh Discovery Point. Our conference and exhibition areas have undergone a dramatic £500,000 facelift. This has seen the creation of three brand new permanent galleries focusing on themes that were previously underrepresented in the museum. We've also got a new introductory film and audiovisuals, as well as a multi-purpose learning and activity space set within the galleries. But as we look forward to the exciting change in the city, it is also an opportunity to reflect on what we have achieved.
Discovery Point was 25 years old in 2018, having been opened by the Duke of Edinburgh on 1st July 1993. We decided to celebrate this Silver Jubilee with an increased focus, both online and within the galleries, on our incredible polar material. Starting on 6th June (coincidentally the 150th anniversary of Captain Scott's birthday!) for the 25 days leading up to 1st July we choose our 25 favourite silver (or silver-themed) objects from among those on display in the galleries. We then created posts and videos to share online with a daily feature on Facebook and Twitter. We also wanted to extend this focus within the gallery itself, with designed special 'silver trail' sheets available to visitors throughout the summer months.
Objects were selected from throughout Discovery's history as well as from other related polar vessels. For example, a Polar Medal belonging to stoker Thomas Whitfield, Silver Tree leaves collected by the scientists on route to Antarctica, and a tea and coffee pot from Discovery's later BANZARE expedition. We even had a silver plaque from a dog collar and harness used by the sledge party from the ill-fated Terra Nova expedition.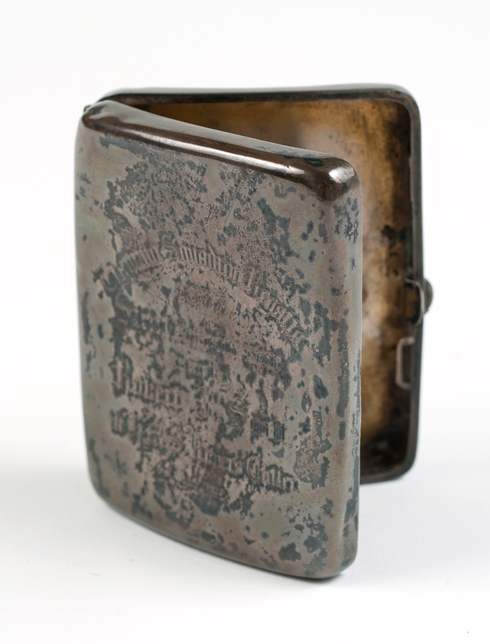 However it was the stories behind these objects that was really key. Social media posts and videos gave us room for longer accounts than would normally be possible within the constraints of gallery text. This enabled us to go into further detail on the people and events behind the objects. We hoped this approach would build interest in the collection as well as encouraging conversations with our online followers.
Our first featured object was a beautifully engraved silver cigarette case. It was awarded to an 18- year old Robert Falcon Scott by Clements Markham for wining a cutter race in 1887. This marked the first meeting of the two men and Markham, who became President of the Royal Geographical Society, would later set Scott off on his career as an Antarctic explorer by appointing him as Commander of the Discovery in 1899.
We have been overwhelmed with the reaction to these posts. They prompted one private collector to get in touch to share his material, which will be extremely useful for potential future loans. Descendants of the Discovery's crew members have been in touch, many of whom I was previously unaware of. Some even provided additional information for our records. For me, perhaps the most enjoyable aspect has been the many positive comments we have received telling us how much people have enjoyed learning more about these objects. This is something we hope to learn from and build upon as we plan for the next 25 years at Discovery Point.