R!SK: a New Touring Exhibition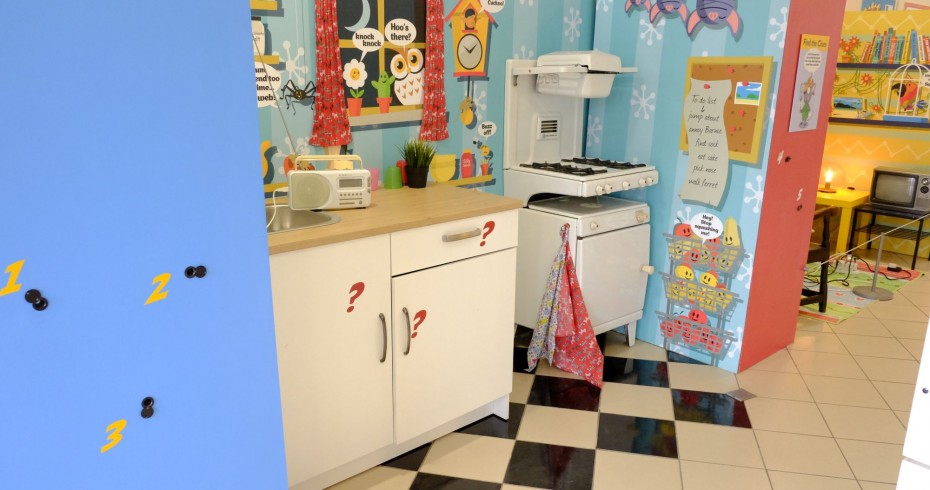 A spill, a slip, a hospital trip. Oh no! The world around us can be a hazardous place but over the years people have come up with clever ways to protect themselves.
A lively and colourful new exhibition looks at the sometimes hidden dangers in and outside the home in a way that is fun, interactive and educational, designed to appeal to a family audience.
Like many of the Go Industrial member museums we have a lots of safety equipment with a story to tell. Some items look frightening and uncomfortable, others simply inadequate for the purpose.
Our Ravenscraig collection includes many relatively modern items from Scotland's biggest steelworks, a place that was full of potential dangers. Workers had to deal with intense heat from the molten steel they worked with. This meant reflective suits, woolen overalls that, while uncomfortable would not burn, clogs with wooden soles (wood is a poor conductor), gauntlets and eye protection. In some cases the infra-red heat given off by the steel made it impossible to even look directly at it. At the same time workers near the furnaces carried carbon monoxide monitors to warn them of the presence of this odourless but deadly gas.
As if that wasn't enough, steelworkers also had to contend with all the other dangers of working in a factory environment, such as noise and physical hazards. No wonder a fully kitted-out steelworker resembled something out of Dr Who!
In the exhibition you can hear the voice of John Baird, who worked at the Ravenscraig Works for most of its existence. Mr Baird had the responsibility of driving the mighty slabbing mill that flattened freshly-cast steel ingots. Having started his career in the 1940s driving an overhead crane in a locomotive works at the tender age of 14 before entering the steel industry, he saw many changes in health and safety regulations including the landmark Health and Safety at Work Act, 1974 - and also many accidents.
"Well, health and safety didn't come in until 1974… The steelworks is a dangerous place for anybody that is not aware of what's going on round about them, you had to keep your eyes open and be aware of the noise because it is a noisy place. But somehow or other when you spoke to each other you didn't feel you were raising your voice, it became a case of lip-reading in a lot of things. Some things you didn't want to hear, you were better not lip-reading but, all in all it was a place where people were aware of the dangers."
John Baird recalled one very narrow escape for a crane driver that happened a couple of years after Ravenscraig had become operational in 1962:
"A crane was bringing an ingot out of a furnace when the cabin, which the operator sits in moved sideways over the furnace, picks the ingot up and moves out. He had just come out of the area of the furnace when the cabin came off the crane and fell 20 feet [6 metres] to the ground. He was not killed but he was very fortunate, eh and at that point they then checked all the cranes and found that the bolts securing the cabin to the mainframe should have been changed and rivets placed in place of the bolts but that had been overlooked. And every crane was the same so we were very fortunate. There was ten seconds between that crane falling into the furnace with the ingots in it and where it fell just outside of the area of the furnace."
Coal miner James McGarrity suffered various injuries while working underground at Bedlay Colliery, Lanarkshire:
"We were working with steels then, steel instead of wood... Y'didn't get the same warning,.. if the roof was cracking over you an' eh, where I was the roof all come in and I heard it just an' I, I jumped clear but I'd injured my back… A few months then to… I then went back and the one that really finished me then was, eh competing with young men, I still stayed at the coal face all my life, I always was at coal face. Then I… injured myself lifting heavy iron bars an' competin' with young men, trying to get finished along with them. But eh, I'd collapsed. I didn't know what had happened to me, I thought I'd just, er racked my chest but it was here it was a, I was taken to the Law Hospital and it was a heart attack. So, I was idle for about five or six months, then I went back to pit, I got a light job then which to me was enjoyable then, not being at the coal face, looking after machinery. But you go back that way you take a break in wages then… because you're not at the coal face, you, you take a drop in wages. You're allowed a little in compensation along with that up until… I finished. It was a Fair Holiday and… we were ready to go for our holidays and I collapsed up the street then, and that you know with my heart, I got taken away to the Law again and it was then, I knew then I couldn't get back to the pit."
This theme of hard physical work gradually wearing people down crops up in other oral histories. For example steelworker turned health and safety manager Alex McGowan remarked,
"I was fortunate, I think that I left the steel industry when I was 33, and they were heavy, heavy jobs, and I was I think really lucky that I managed to get out, er before I started wearing out all my joints and everything like that, 'cause when I look back on it the now, at that time there were, once you got to about, 50s, 55 all the guys that age were on light jobs, you known there were little niches found for them and, er because of they were nay fit anymore because of the conditions and the hard work that they were involved in… You can relate it now to the construction industry, you know, the same sort of thing, when guys are getting to their mid-50s they're worn out."
The exhibition isn't just about work: our homes and the world around us is filled with potential dangers – and at home we don't have a health and safety officer to warn us! Exhibition visitors are invited to explore the rooms of a slightly surreal 'House of Danger' and follow clues that will help them spot the risks inside. Unlike the sections of the exhibition on occupational hazards, this area is aimed squarely at children. Exploration is the name of the game here: between the rooms of the house the walls contain hidden clues to help you spot the hazards. These are discovered through spy-holes.
The exhibition has proven really popular with schools and families and we are looking forward to touring it to other venues.
R!SK was on display at North Lanarkshire Heritage Centre, Motherwell until 11 May and is now available for hire. Email WeirC@culturenl.co.uk for more information on all our touring exhibitions.