James and Ignacy: shale oil mining in Scotland and Poland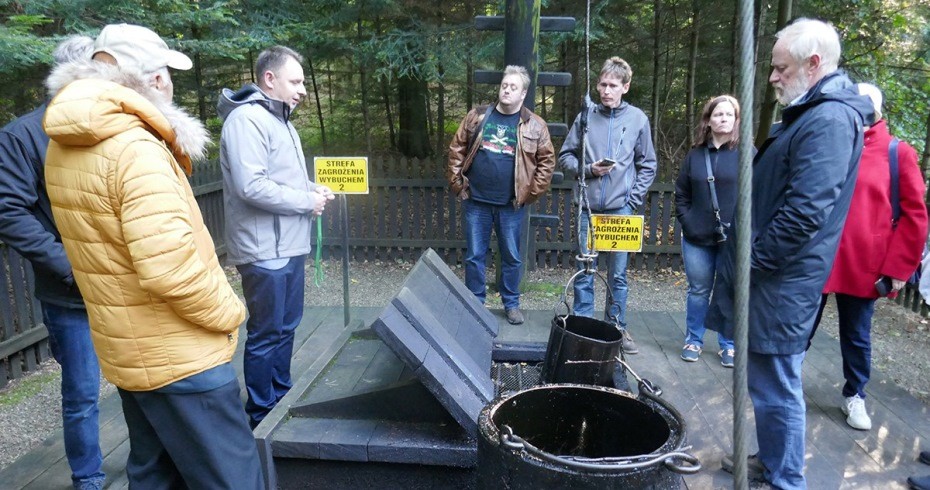 September 2019 marked 165 years since the first well was dug in the Bóbrka oilfield. It is perhaps an anniversary that passed many people by, but was an occasion merrily celebrated by old oil-workers and their families at the Museum of the Oil Industry in south-west Poland.
The museum's guests included many long-retired oil company officials (and perhaps former party officials?) who through the years had championed and supported the museum of their industry. Dressed in shiny pressed suits, their wives sporting new hair-dos (echoing the big hair of earlier days), all were intent to catch-up with old friends, reminisce about the old times, and enjoy the occasion. These folks will have started their career in the communist era when the world, and prospects for the future, must have looked very different.
The day began with hot lunch featuring traditional hunter's soup, followed by speeches and presentations. All then took their seats in the museum's tank-shaped auditorium and were entertained by a choir of equally venerable men and women who put on a superb show of folk songs, comedic interludes, a Mexican medley and the occasional Abba classic. Night had fallen by the time the applause of the final encore had died down. All slowly filed out into the pine woodland that cloaks most of the museum site and made their way along the lamp-lit forest path to the Canadian-style drilling rig, nearly a kilometre away. Here dinner was waiting. The drilling rig is a huge timber structure, like a barn fitted with a spire, and oddly reminiscent of local timber churches. It has been cunningly converted as a venue for weddings and saints days celebrations, and its welcoming lights beamed out into the forest, keeping ferocious squirrels and foxes at bay (we were told that there were no wolves or bears in this part of Poland). The central table was constantly replenished with cold meats, breads and salad. There were ample supplies of wine and beer, and bottles of vodka mysteriously appeared at certain tables. Guests were soon joined by members of the 30-strong choir, and their songs and laughter echoed through the forest late into the evening.
There are startling parallels between the early history of the Polish and Scottish oil industries. In Poland, the memory of Ignacy Łukasiewicz, the founding father of the Polish oil industry, is revered in much the same way as our own James "Paraffin" Young. In 1853, Ignacy, a chemist by training, began digging pits at Bóbrka to collect crude oil, and the following year opened a refinery, began production of a lamp oil, and promoted the development of lamps particularly suited for this new fuel. At the same time, industrial chemist James was perfecting retorting and refining processes at his Bathgate chemical works, and was beginning to explore the huge market that existed for paraffin lighting. Iggy and Jimmy probably knew of each others existence, but there is no record of any contact between the two men. Had they met, they may have argued about which was first to produce oils on a commercial scale, but would certainly have agreed that this was achieved long before the brash Americans, who went on to claim this honour.
The parallels between how the Poles preserve and celebrate their oil heritage, and our own efforts in Scotland, are less clear. The museum at Bóbrka was established in 1962, and followed a pattern for open-air folk museums already popular across northern and eastern Europe. Early oil plant, constructed largely from timber, was relatively easy to salvage, re-erect or reconstruct within the attractive woodland setting of the historic Bóbrka site. Other old equipment illustrating the subsequent development of oil industry was gradually brought to the site to illustrate an unbroken record of technical progress that communist authorities were pleased to promote. A visit to the museum was an obligatory part of many children's education.
As with other national oil museums in Hungary, Romania, Estonia and the former eastern Germany, the fall of communism brought huge difficulties as funding from state-owned companies dried-up and assured audiences evaporated. These oil museums have found their own routes to survival, although many still face huge challenges in maintaining massive drilling rigs and other lumps of rusting steel bequeathed from soviet days. Bóbrka is fortunate in being located in an active oilfield (the museum site still produces a little oil) and continues to receive substantial support from the national oil company, along with a degree of practical control. It is a progressive modern museum but, as demonstrated in the singing drilling rig, one that retains its roots in the oil industry and the communities that it serves.
Fate has been less kind in Scotland. The year of Bóbrka's founding also marked the closure of Scotland's last shale oil works. In 1962 the concept of "industrial heritage" seemed a little off-beat, and it would be several years before the first major open-air industrial museums were established in the UK. No one dreamed that the massive brick, iron and steel structures central to the shale oil process could or should ever be preserved.
BP's Grangemouth refinery, built to process imported crude, had sprung from the shale oil industry, and many BP folks had their roots in shale. During the 1980's the Paraffin Young heritage trail was promoted to celebrate the legacy of the industry and "capture the memories of former shale workers at Grangemouth before they retired"; but sadly no permanent museum arose from this initiative.
A little later, Livingston Development Corporation took up the mantle of the shale oil industry. LDC were charged with building a new town, nurturing new communities, and attracting industry to the area; exercised a range of powers that would not have been out of place in eastern Europe at that time. When attracting business to the new town, LDC used the story of James Paraffin Young to exemplify a heritage of local enterprise. While James was being presented as a hero of capitalism, in communist Poland, Ignacy was being painted as a caring, sharing, man of the people.
LDC investigated several schemes to establish a permanent oil museum, including one based at the site of the former Deans oil works. Here a highly ornate office building, and a wonderfully tiled baths block still survived, while the oil-soaked foundations of old retorts lay just below the ground surface. The site would have made a passable open-air museum, and Beamish founder Frank Atkinson was brought in to advise. The project ultimately did not go forward, and LDC's oil museum interests were eventually lumped in with those of a community farm to form that unlikely conglomerate that is Almond Valley Heritage Trust
Over the last 30 years, Almond Valley has achieved a great deal to keep shale heritage alive, and now operates without funding from central or local government, or from the oil industry. The warm welcome and insights gained though visiting our fellow European oil museum colleagues are sometimes tinged with sadness when reflecting on missed opportunities and what-might-have-beens in Scotland. But it also provides inspiration for what could be achieved in the future. The pioneering spirits of Jimmy and Iggy live on.
---
---
First published on Facebook page of the Museum of the Scottish Shale Oil Industry, 22nd September 2019.