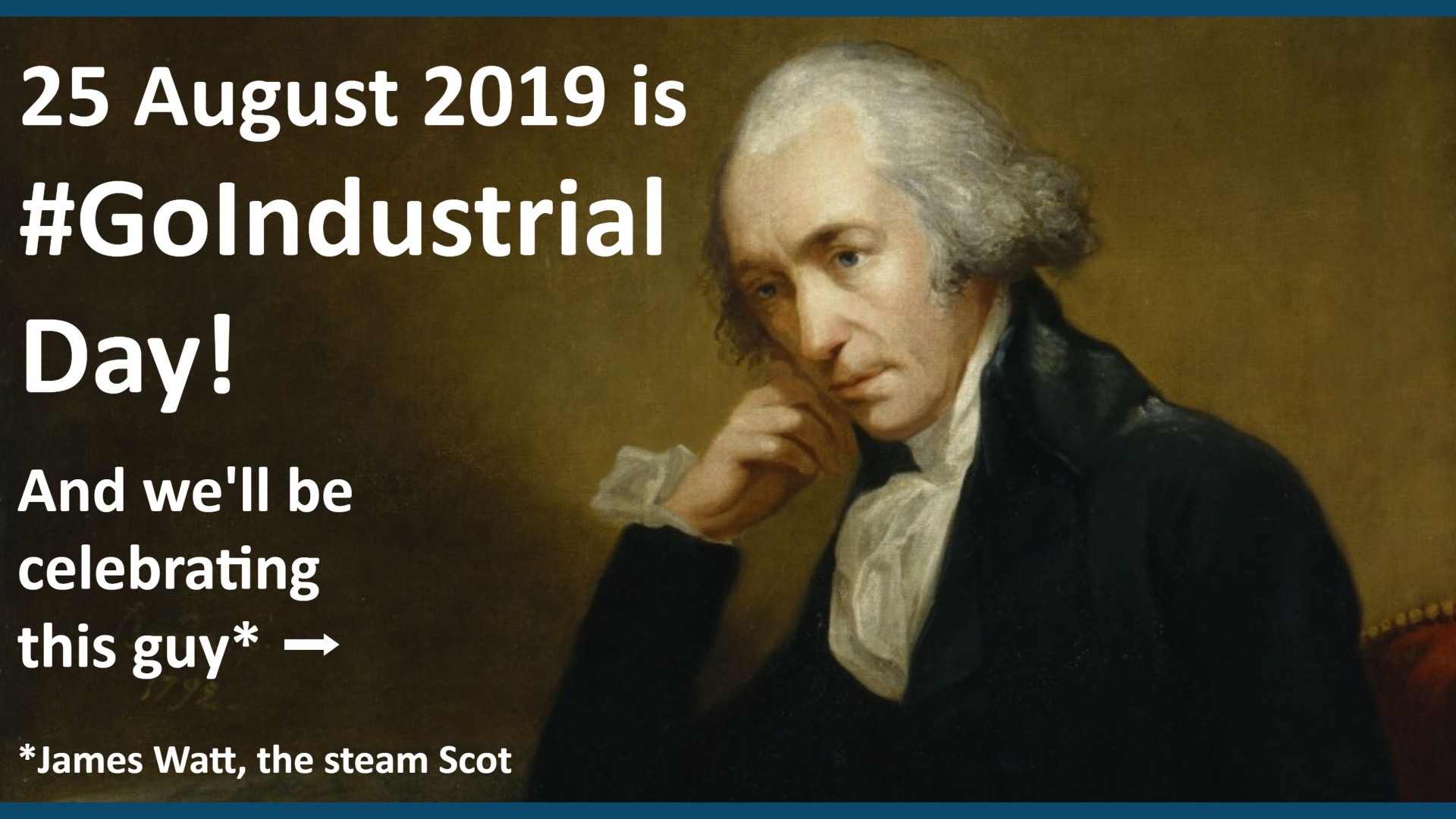 On 25th August 2019 we will celebrate the life of James Watt on our third #GoIndustrial Day.
2019 marks 250 years since the patent of one of James Watt's most famous inventions – the separate condenser – and 200 years since his death on 25th August. It seems fitting that #GoIndustrial should commemorate Watt, whose success was so great that a unit of power was named a Watt in his honour. As well as events in our venues across Scotland, we'll be on social media too - find out more below.
James Watt was a Scottish engineer and inventor who changed the world. Watt's improvements to the steam engine drove the Industrial Revolution. In 1769 he patented the separate condenser, a method of lessening the consumption of steam in steam engines. The Boulton & Watt steam engine would go on to be a driving force in the industrial revolution.
Watt also patented:
A new method to produce a continued rotation motion – find out more about how to B&W engine worked (see link below)
New improvements upon steam engines (twice!)
New improvements of constructing furnaces
Find out more about how the Boulton & Watt steam engine worked in this short film from National Museums Scotland.
#GoIndustrial will celebrate the life of James Watt on 25th August!
In our venues
You can do the #GoIndustrial trail at Verant Works and Discovery Point on #GoIndustrial Day!
On social
Our venues will all be live streaming throughout the day - follow #GoIndustrial on Twitter and Facebook to catch them all!
| | |
| --- | --- |
| 10.30am | Scottish Maritime Museum |
| 11am | At 11am Morag the Coo will take you on a virtual tour at Almond Valley |
| 11.30am | Auchindrain Township |
| 12pm | The Museum of the Scottish Railways will say #TootToot with the power of steam |
| 12.30pm | Scottish Fisheries Museum |
| 1pm | Museum of Lead Mining |
| 1.30pm | Museum of Scottish Lighthouses |
| 2pm | At National Mining Museum Scotland the Junior Miner Experience will be making some noise! |
| 2.30pm | Verdant Works will have a steam and mill-inspired performance from Quire with a Q |
| 3pm | New Lanark |
| 3.30pm | Summerlee Museum |
| 4pm | Discovery Point |