Exhibition
Industry + Aesthetics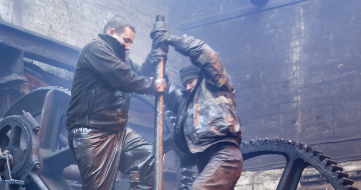 New exhibition explores aesthetic of Scotland's industrial past at Irvine's Scottish Maritime Museum.
Industry and Aesthetics features survey photography of industrial sites which forms part of the National Record of the Historic Environment, which is maintained by Historic Environment Scotland (HES). The images shine a spotlight on Scotland's industrial heritage, capturing aspects from the everyday to the exceptional, the marginalised, the ignored and the undervalued.
The photographs were chosen for the exhibition as a result of a crowd-sourcing exercise, which invited participants to look at the images and choose which words, feelings and emotions were conjured up by each.
Industry and Aesthetics will be on display at Scottish Maritime Museum in Irvine until Sunday 17 February 2019. Entry to the exhibition is included in the admission price.
For more information about Scottish Maritime Museum, including admission prices, visit: https://www.scottishmaritimemuseum.org
HES's extensive archive spans a vast range of buildings, archaeological monuments and industrial and maritime sites, to give an unparalleled view of Scotland's past. For more information, visit https://canmore.org.uk/.