Workshop
Age of Oil: Artist's Sketchbook Workshop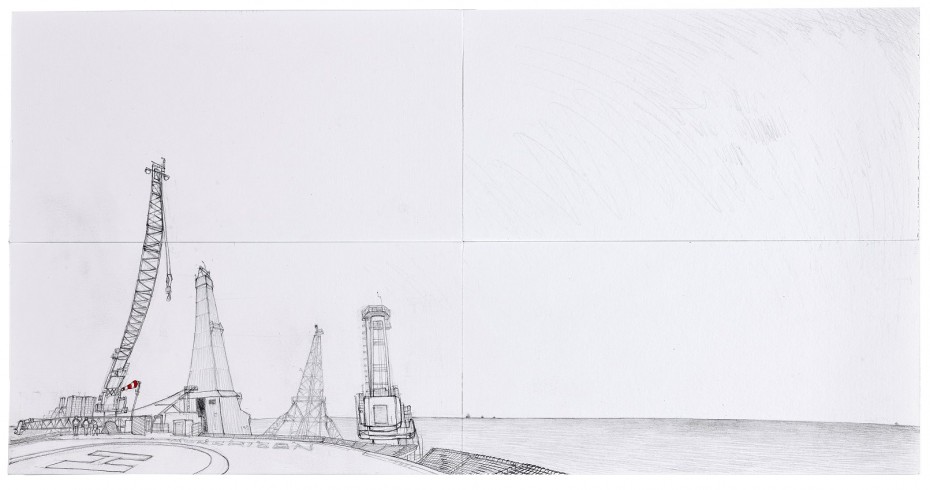 Hone your sketching skills under the guidance of a professional artist and see the developments in Scotland's energy journey over the past decade in the 'Age of Oil' exhibition.
Scottish Maritime Museum's temporary exhibition 'Age of Oil', in association with National Museums Scotland, showcases the work of visual artist Sue Jane Taylor from her residences on North Sea oil platforms Brent and Murchison. Taylor produced artworks, films and hundreds of sketches, capturing day to day life and work on the platforms.

Join Sue Jane for this immersive workshop as she discusses the importance of artist sketchbooks and explains how she used them to create the final pieces on display in 'Age of Oil'.

In this practical session you will have the opportunity to explore the Scottish Maritime Museum's industrial objects and the sights of Irvine Harbour through your own sketches.

This event will be held during 'Scotland's Energy Journey' Weekend on Sunday 17th March as part of 'British Science Week 2019''.

Tickets to this workshop include all day entry to the Scottish Maritime Museum.

Please bring your own sketchbook with you, some art materials will be provided.

The workshop is suitable for people aged 16+
15 spaces available

Full Price: £10
Concessions: £8

Age of Oil: Artist's Sketchbook Workshop:
Time: 10:30am – 1pm

10:30am: Tour of 'Age of Oil' with artist Sue Jane Taylor
11pm: Teabreak
11:15am: Sketching Irvine Harbour*
11:45am: Comfort Break
12pm: Sketching in the Museum
12:45am: Sharing the days sketches

*Outside activities are weather dependent, if inclement weather occurs an alternative session will be held inside the museum.