The New Lanark Retort House and Chimney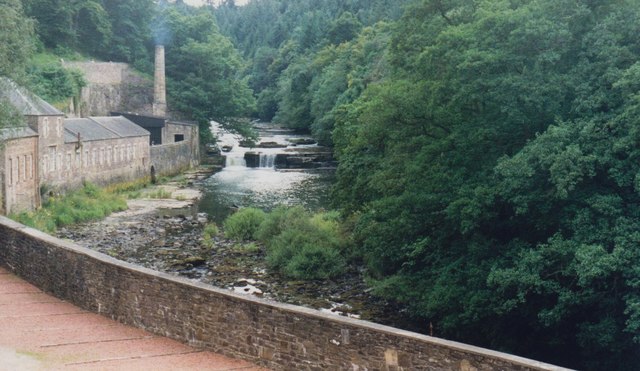 New Lanark's 19th Century gas-making plant Retort House Chimney is a significant relic of the industrial revolution. Built in 1825, the year Robert Owen left the village, it is close to the cliff at Dundaff Linn Falls.
Most Scottish stalks are of brick but this octagonal sandstone ashlar chimney on square plinth with plain cope at New Lanark is rare. It is the last remaining part of the village gasworks. The building was listed Category A in August 1974.
Coal gas was made on site as a safer alternative to oil lamps to provide lighting for cotton production in the mills as well as for lighting in the village. Two small gasholders once stood next to a small U-plan Retort House, now used as a river viewing point and provides a vista over the Dundaff Linn. The Linn now provides the head of water power for the village. The gas supply to the mills was superseded by electricity-producing turbines introduced in 1898.
Coal gas is a flammable gaseous fuel made from coal and supplied to the user via a piped distribution system. Town gas is a more general term referring to manufactured gaseous fuels produced for sale to consumers and municipalities.
Originally created as a by-product of the coking process, its use developed during the 19th and early 20th centuries, tracking the industrial revolution and urbanisation. By-products from the production process included coal tars and ammonia, which were important chemical feedstock for the dye and chemical industry. A wide range of artificial dyes could be made from coal gas and coal tar. Facilities where the gas was produced were often known as a manufactured gas plant or a gasworks.
The only fully restored town gas works left in Scotland at the Biggar Gasworks Museum developed over 130 years of operation from 1839. New Lanark's chimney and building predates it by 14 years.
Research from our family history records shows that the New Lanark gasworks provided employment for many village residents including the following:
in 1841, William Muir, born 1805 at Double Row
in 1851/1861, John Calderwood, born 1827 at 18 Caithness Row
in 1871, William Purdie, born 1842 at Double Row
in 1881, John Duncan, born 1859 at 37D Mount Hooley Row, and William Leslie, born 1805 at 97 Double Row
in 1891, James Meikle, born 1842 at 99D Double Row