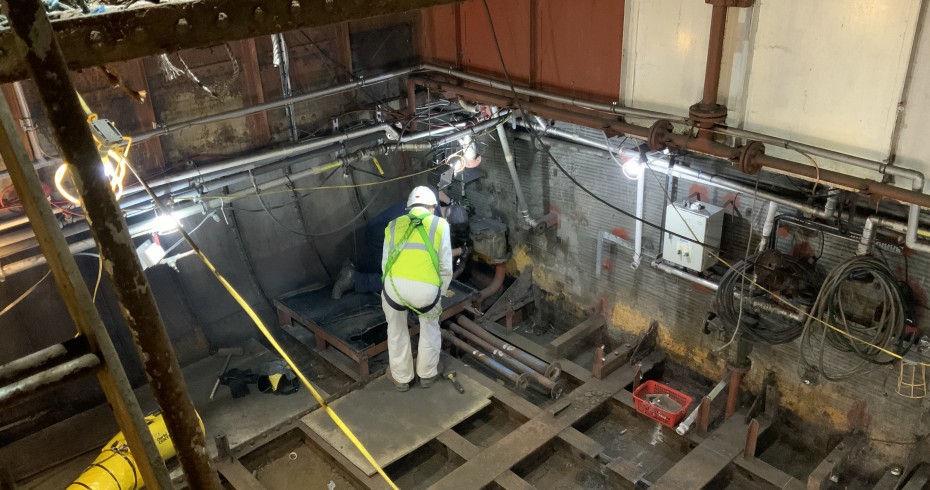 Loch Lomond Steamship Company is delighted to announce that Dales Marine Services Ltd (Dales Marine) has been appointed as contractors for the work required to repair the hull of the Paddle Steamer Maid of the Loch currently on the slipway near Balloch Pier on Loch Lomond.
Most of the repair centres on the keel block and sections to either side in the boiler room area. Other smaller repairs are required near the bow, a result of abrasion in shallow water when she was sailing up the Loch with resultant loss of coatings. The bitumen applied to the hull below the waterline when she was built back in 1953 has served her well along with the immersion in fresh rather than salt water, but after 68 years its time to see to her bottom.
Dales Marine will provide the specialist welding skills required to replace these sections, but in a determined effort to keep costs strictly controlled. Our amazing, hard-working volunteers will do the remainder of this very substantial repair to the vessel – so she will soon be good for another half-century and more.
Loch Lomond Steamship Company recognises the sterling work that Dales Marine has already done on PS Waverley and Iain Robertson, LLSC Director and Chairman said, "Without a doubt this is the start of the most significant chapter in the Maid's history since the charity saved her in 1995. The full repair of the hull will ensure her future for another 50 to 60 years and heralds the prospect of her sailing again on Loch Lomond."
On securing the project, Andrew Malcolm, Business Development Manager from Dales Marine, said: "Dales Marine is delighted to provide our technical expertise in supporting the repair of the "Maid of the Loch". We look forward to working with LLSC and their team of volunteers with this vital work to save such a historic vessel."
If further fundraising proves successful then, during this period when the ship is on the slipway, the intention is also to undertake refurbishment of the paddle wheels which are in very poor condition. This is another mammoth task and is already well underway by LLSC volunteers. Painting the vessel in her unique light hull colour with buff funnel with green boot topping is also on the worklist. She'll be a beauty once more.