Remembrance steeped in history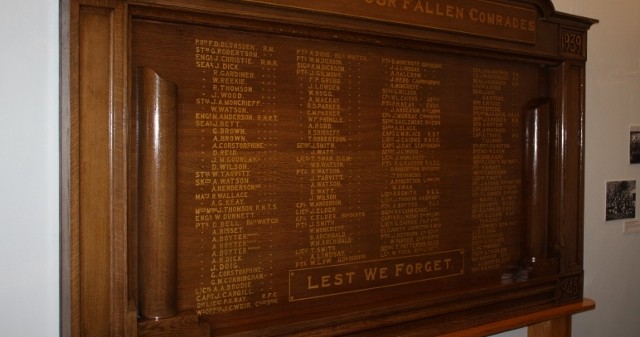 The Memorial Board at the Scottish Fisheries Museum has two dedications that read: to the First World War "In Memory of Our Fallen Comrades"; and for the Second "Lest We Forget".
It is made of oak and has the British Legion crest carved in the top centre. The Memorial Board was created pre-1950 for the British Legion Hall, which was at this time situated beside the lifeboat shed on the East Pier. It commemorated 142 men and women who had been lost in the two wars, and who had been born in or resident in Anstruther or Kilrenny parishes.
The arrangement of the production of the board was in the hands of Martin Sutherland of Cellardyke. He was employed at Rosyth Dockyard and in 1950 when he and his wife moved from John Street, Cellardyke to Dunfermline. Where the board was made and who the painter was is unknown. However, it is likely that the board was constructed in a joiner's workshop or the local boatyard, and the lettering applied by a ship's painter.
Around 1990, when the British Legion Hall had to be moved to make way for a car park, the decision was made to move the board to Cellardyke Town Hall where it was on public display in a room on the ground floor. It remained here until 2004 until the room was to be rented privately and consequently it would be unavailable to the public.
The decision was taken to move the board to a corridor within the Scottish Fisheries Museum. A shelf and side plinths were created by Museum to support the board and it was attached to the wall. The lighter coloured oak used for this is believed to come from seating benches found in a local tavern. This could have been the Sun Tavern, which around this time was incorporated into the museum.
A re-dedication ceremony to be attended by local clergy and dignitaries was arranged. However, the night before, part of the museum at 20 East Green was destroyed by fire. The roof of the three storey building was brought down by the fire service and the whole building was gutted. Astonishingly the ceremony went ahead as scheduled.