New Lanark's Engine House and Steam Engines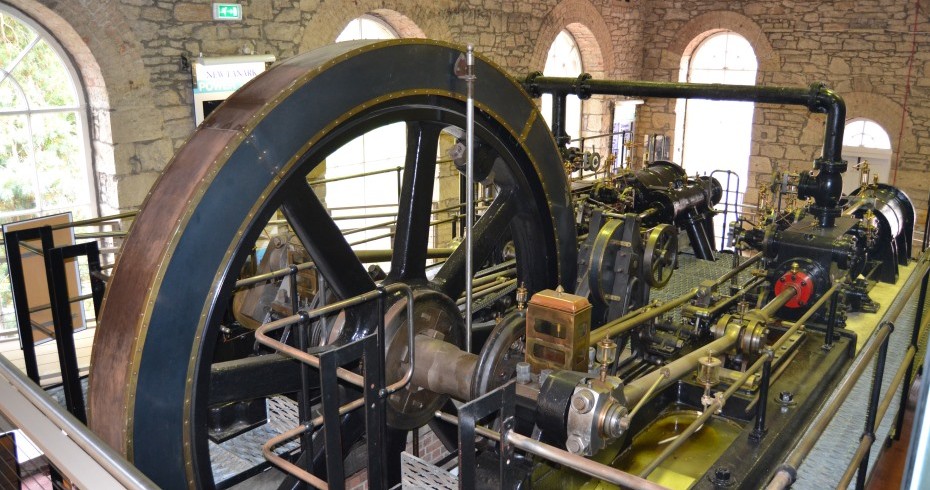 While New Lanark is recognised as being in an outstanding natural setting with the gorge, and by volume having the greatest waterfalls in Britain, there came a time when steam power was used to supplement water power when the supply became irregular during the summer.
The engine house at New Lanark is an 1883 extension of the 1816 Institute for the Formation of Character, the centrepiece for Robert Owen's communitarian polices for the village. The engine house was built to house a steam engine after almost total dependence on water power for a century, since Richard Arkwright designed the original hydraulic system to drive ten waterwheels.
Henry Birkmyre took over New Lanark in 1881. He was likely to have required a significant change in power supply for the village as he was engaged in a huge expansion of the Gourock Ropeworks across the world. Birkmyre was also introducing a wide variety of new machinery, especially for net making, which had a different demand regime for power.
The first steam engine at New Lanark was actually installed in 1873 by Hunter & Co of Glasgow. This Horizontal Condensing Valveless (HCV) Steam Engine was later replaced by a 400 horsepower Vertical Engine made by Fullerton Hodgart and Barclay of Paisley in 1912.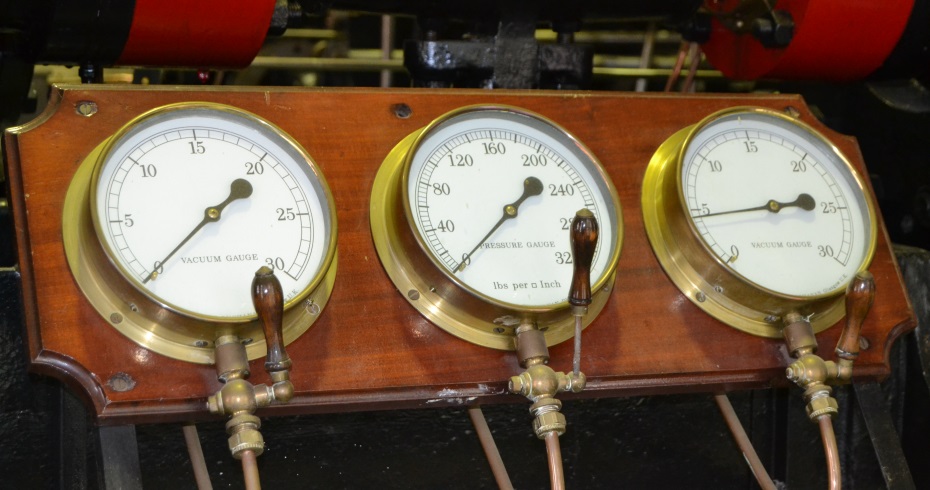 The Compound Tandem Horizontal Condensing (CTHC) Steam Engine was installed in the engine house next to the Institute by J. Petrie of Rochdale in 1881-2. It produced 550 horsepower and turned ropes in a race between Mills 3 and 4. For almost 80 years a boiler house and huge chimney stood in front of the engine house, until it was demolished in the late 1950s.
CTHC Steam Engines are machines where steam is expanded in two or more stages:
• First in a high pressure cylinder;
• Then, having given up heat and losing pressure, it exhausts directly into one or more larger volume low pressure cylinders.
Around 1850 these were introduced into Lancashire textile mills and removed the necessity to site works near powerful running water.
Within the New Lanark Trust's archives is a letter from Petrie & Co. Ltd. dated May 19th 1899, agreeing to make a duplicate CTHC Steam Engine from a new and improved design. They agreed to supply and fit the engine for £700. The need for a replacement after 17 years suggests that steam had become a major source of power for the village and not just a supplement to water power.
This second engine was scrapped some time before New Lanark Conservation Trust acquired the building in 1983. However, after the opening of the Visitor Centre in 1994, New Lanark was able to install another Twin Tandem Horizontal Engine (250 horsepower) made by Petrie & Co. This engine was built in 1911 and was transferred from Philiphaugh Mill in Selkirk. Since its installation at New Lanark, the engine is not powered and is only for display with its technical details. Today, it can be viewed in New Lanark's Institute Engine House.
In a throwback to water power, in 1994 the Trust refurnished a Boving turbine and its governor, dated to the 1930s, for the purpose of generating electricity. Following a refurbishment of the entire lade and sluice system, the turbine is now a valuable source of revenue for the village.