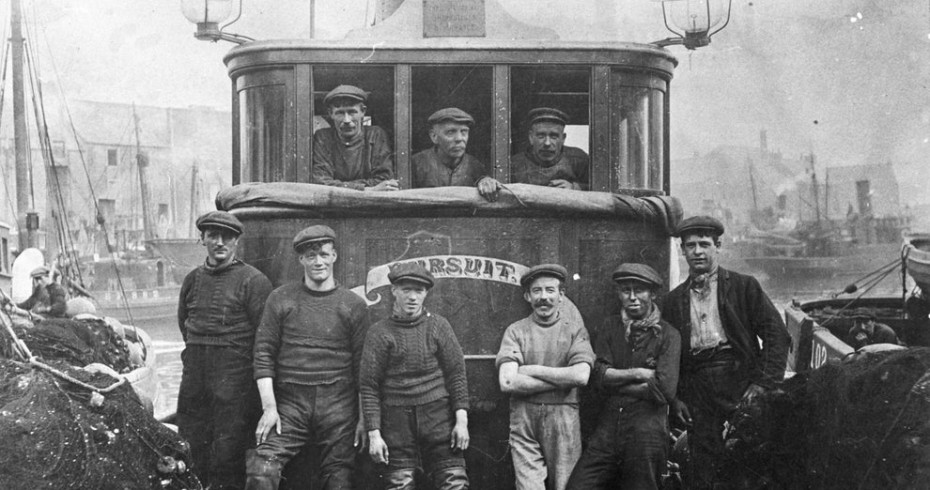 The Scottish Fisheries Museum is delighted to announce the launch of our Knitting the Herring website!
Over the past few months, we have created the initial workings of a national database to showcase Scottish historical ganseys. Ganseys are knitted jumpers made with 5 ply wool. They have extremely intricate patterns, some of which are connected to the coastal towns and villages they were knitted in. Ganseys were worn for work and as Sunday best by fisherfolk, from the 1800s and beyond.
In the coming months, we will reach out to museums, family homes and our project partners in Fife, the Outer Hebrides and beyond to gather information on historical ganseys that were knitted for and worn by fisherfolk from the 1800s to the 20th century. Our own collections include ganseys from the Moray Firth Project Collection as well as our own, all of which were knitted during the 20th century. A gansey knitted with intricate moss stitch diamond patterns in Cellardyke, East Neuk of Fife, was worn during the Second World War.
Explore our collections here.
As part of Knitting the Herring, we are creating a Shoal Exhibition! You can knit your own herring or bunting at home and contribute to a collaborative Shoal. Shoal will be exhibited online to showcase the shared passion for Scotland's National Gansey network.
Find details, instructions and the herring pattern here.
Our Knitting the Herring events programme will include online knitting demonstrations, talks, knit alongs, book readings and storytelling, a comic of Kipper the Cat's Gansey Adventure and The Shoal Exhibition!
Our programme will be revealed here.
For more information or if you would like to contribute gansey details to the collection, please contact us.