Immersive sound installation to reach new audiences across the UK with national tour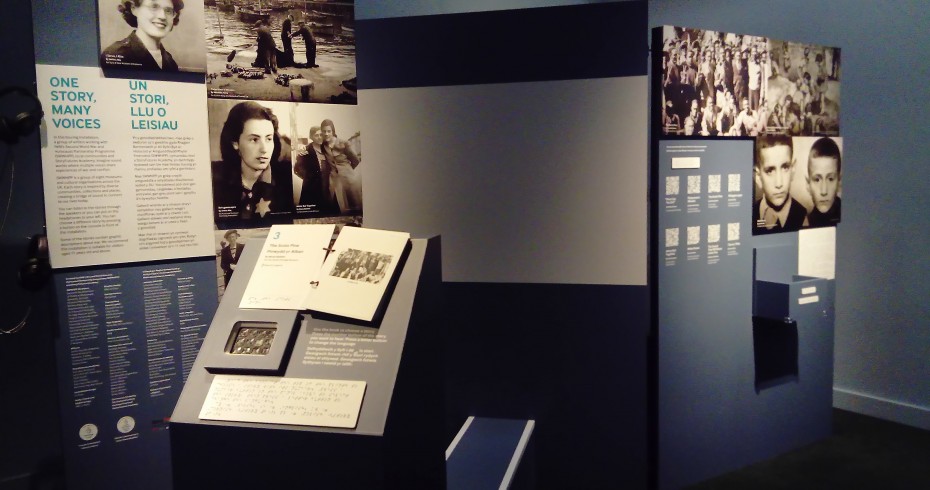 Devil's Porridge Museum to host tour of new sound installation from Imperial War Museum
Imperial War Museums' (IWM) Second World War and Holocaust Partnership Programme's (SWWHPP) immersive sound installation One Story, Many Voices is to embark on a tour of the UK, beginning at the Holocaust Exhibition and Learning Centre at the University of Huddersfield from today (January 10) until February 11.
This digital installation is a unique and innovative onsite experience featuring eight binaural sound stories representing a digital anthology of how we feel, remember and represent the Second World War and Holocaust across the UK today. SWWHPP'S eight regional partners collaborated with celebrated authors, community members and voice artists to develop this immersive sound experience which reflects each partner's local connection with the Second World War and/or the Holocaust.
Inspired by the rich collections and research expertise of IWM and SWWHPP partners, as well as the important input of diverse communities across the UK, writers Amina Atiq, Nicola Baldwin, Mercedes Kemp, Glenn Patterson and Michael Rosen have written immersive binaural stories, each exploring a specific aspect of the Second World War or the Holocaust. Each story is united by the connecting theme of 'listening': which stories do we listen to? Which stories don't we hear and why?
Following the installation's time at the Holocaust Exhibition and Learning Centre at the University of Huddersfield, it will then travel to Cornwall Museums Partnership - Bodmin Keep and the Museum of Cornish Life, opening on February 19 until March 12. Throughout 2022 and through to 2023, the installation will continue its tour, visiting the SWWHPP's other regional partners: Centre for the Movement of People at Aberystwyth University/Prifysgol Aberystwyth; Go Industrial – The Devil's Porridge Museum; Manchester Jewish Museum; the National Holocaust Centre and Museum, Nottinghamshire; National Museums Northern Ireland and Tyne & Wear Archives & Museums.
StoryFutures Academy, The UK's National Centre for Immersive Storytelling run by the National Film and Television School and Royal Holloway, University of London, are co-funders and co-developers of One Story, Many Voices. Led by Professor Adam Ganz, StoryFutures Academy worked with partners to connect with diverse communities and creative artists to develop each story.
One Story, Many Voices has already enjoyed a successful stint at IWM London, where it opened alongside IWM's new Second World War and The Holocaust Galleries in October 2021. This £30.7 million project is one of IWM's most ambitious to date and sees IWM London become the first museum in the world to house dedicated Second World War and Holocaust Galleries under one roof. The galleries bring over 3,500 unseen objects, untold stories and unheard voices together and use the most up-to-date research and technology to help visitors understand the most devastating conflict in human history and the genocide that became known as the Holocaust. With the Second World War and the Holocaust soon to pass out of living memory, IWM's new galleries preserve the first-hand testimony of veterans, eyewitnesses and survivors and ensure that we never forget what they experienced.
"It's been wonderful to be able to look at our archives through a different perspective and to bring out those untold stories and see how we can make them relevant to commemoration today…" Dara Laughlin, Creative Producer for Children and Young People at Manchester Jewish Museum, speaking about the sound installation project at its launch in October 2021.
One Story, Many Voices opens on 10 January at the Holocaust Exhibition and Learning Centre at the University of Huddersfield. The installation will tour SWWHPP Partner locations across the UK throughout 2022 and into 2023. Visitors can also listen to the stories online and in the binaural format by visiting: onestorymanyvoices.iwm.org.uk
The Second World War and The Holocaust Galleries are now open at IWM London. Entry is free, but pre-booking tickets for a timed slot is advisable.
---
Image: ©Rachel Donnelly
---